Pearls are unique as they are the only gems from living sea creatures and unlike other gemstones require no faceting or polishing to reveal their natural beauty.
In the early 1900s, the first successful commercial culturing of round saltwater pearls began. Since the 1920s, cultured pearls have almost completely replaced natural pearls in the market.
A pearl is created when a very small fragment of rock, a sand grain, or a parasite enters the mollusc's shell. It irritates the oyster or clam, who responds by coating the foreign material with layer upon layer of shell material. Pearls can be found in both freshwater and saltwater. Freshwater pearls derive from freshwater mussels living in lakes, ponds, rivers and other bodies of fresh water. They are made in both warm and cold climates ranging from Central America to more cold locations such as Scotland. Saltwater pearls grow in pearl oysters in oceans. In order to protect the saltwater pearl oysters, they are typically cultivated in protected volcanic atolls or lagoons.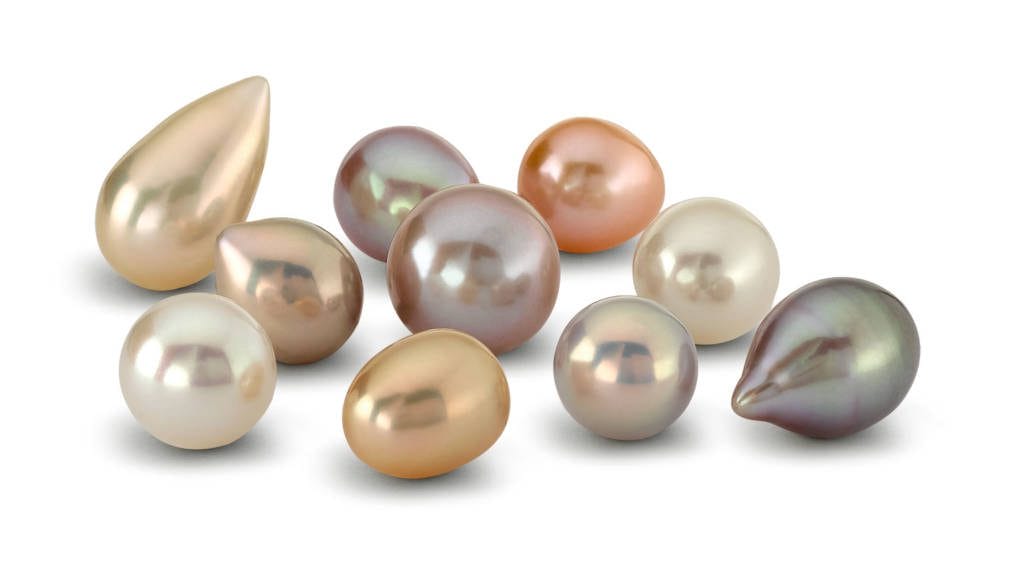 Pearls possess a uniquely delicate translucence that places them among the most highly valued gemstones. The colour of the pearl depends very much on the species of mollusc that produced it, and its environment. White is perhaps the best-known and most common colour. However, pearls also come in delicate shades of black, cream, gray, blue, yellow, lavender, green, and mauve.
The pearl is thought to promote personal integrity and also is said to help with focusing on a person's attention. The pearl also is said to bring charity, innocence, and faith. It is also said to inhibit overexcited behaviour. Brides also commonly wear the pearl at their wedding. The pearl is also said to treat soft organs and digestive illnesses. It is said to relieve bloating and increase productiveness and even comfort childbirth.
Pearls are beautiful but delicate jewellery that needs special care. Do not use any harsh or rough chemicals on your pearl. Lay it down flat out of contact to all other pieces of jewellery. Always put pearls on after soap, make-up, lotions, and hair products have been applied. A good reminder is that when getting ready, the very last thing one should do is put on one's pearls. They should be re-strung periodically to ensure the cord holding them is sturdy. Lastly, store pearls away from other jewellery, as pearls can too easily become scratched or worn down by metals and other gemstones.  Contact us today for price points and information about Pearls.  We can sell loose pearls or set them in rings, string them for a necklace or a stunning pendant.  We love pearls so contact us today if interested in anything to do with pearls.
Here at Polished Diamonds, we create unique Computer-Aided Design to draw the perfect Pearl jewellery. come on in and start the process today.