Pantone are commonly known for their standardized colour matching system, used around the world. They not only specialize in differentiating colour shades but attempt to look beyond what the eye can see and discover what colours represent.
It is for this reason that a 'colour of the year' is chosen on an annual basis – and for 2018 'Ultra Violet' was their choice.
Pantone is based in New Jersey, America and best known for their Pantone Matching System (PMS) which is used worldwide. A universal colour scheme has been recognised and created by Pantone used by a wide range of organisations to identify colour. For example, painters, fashion designers, interior designers, marketers and of course jewellers.
A different colour each year is selected based on trends, cultures, a reflection of the current world in which we live and where we are heading. Individuals are encouraged to see past the initial colour and realize the messages and meanings that the colour represents. Due to their wide reach, Pantone works collaboratively with designers, influencers and brands to decide on the most appropriate colour for the upcoming year.
For 2018, the colour selected is PANTONE 18-3838 Ultra Violet. Ultra violet is thought to represent the intrigue and excitement of what is yet to come, the mysteries of the future and the vast limitless of our capabilities both as individuals and as humanity. It symbolizes the significance of being true to yourself, non-conformity and self-expression through creative outlets. It is also representative of calmness, serenity and composure.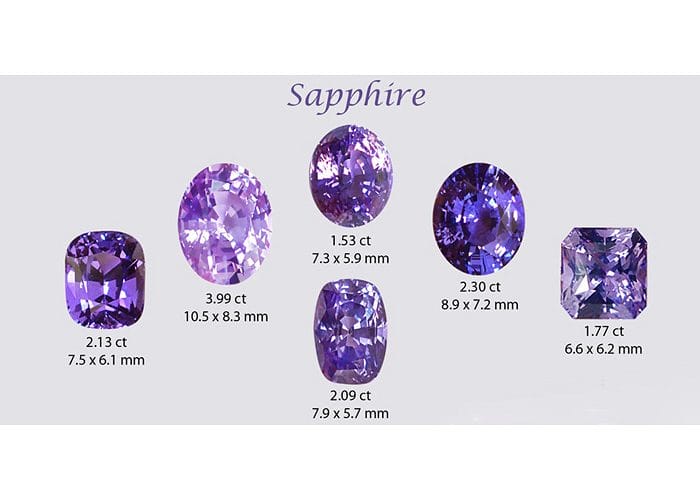 Past colours have included tigerlily, true red, emerald, honey suckle with greenery being selected for 2017. Once the colour has been released it is common to see designers and marketers targeting this colour in their clothing ranges, advertisements and products. Jewellery designers and manufactures also follow the colour trend, with emerald stones being a popular choice last year. Here at Polished Diamonds Jewellery Design, we have a wide selection of gemstones that represent the colour ultra violet. We encourage you to do as Pantone suggests and 'ultra violet' represents and step outside of your comfort zone and design a piece of jewellery that is inclusive of this colour.
A deep purple sapphire, or light violet gemstone would look stunning in an engagement ring or statement necklace. If this interests you or you wish to discuss other options, please do not hesitate to contact us. As we are heading into the colder months of the year, a deep purple ring or pair of earrings would be eye-catching accessory, with added meaning as Pantone suggests.