Here at Polished Diamonds we custom design and make both engagement and wedding rings. Each ring we create is personalised to best suit the customer's needs.
By using a computer aided design programme (CAD), allows us to present the customer with an exact simulation of the ring they have designed. With having platinum, yellow and white gold available along with a wide range of diamonds and coloured gemstones – the options are endless.
Pictured below is Jaeger Luke and his fiancé Alissa Rice just after he had proposed. Jaeger was thrilled with his engagement ring and wrote to us saying that; "I am just emailing you to thank you personally for your craftsmanship and care of my fiancé's ring. Every single family member is completely astonished with the ring's beauty and elegance."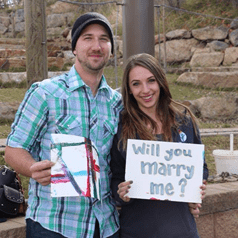 Another example of a couple who have purchased from Polished Diamonds is Fiona and Sam. We designed her engagement ring and here they are pictured below at Banks Peninsula in Christchurch after he had proposed. Sam recently got in contact with us to say that; "Fiona was ecstatic about her engagement ring and loves the design."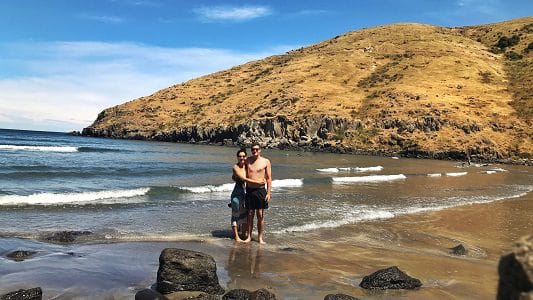 Peter and his fiancé were particularly delighted with the engagement ring that Polished Diamonds had designed and made for them. Peter wrote to us over email after his proposal saying; "thank you very much for everything you have done and the ring is especially perfect." We are thrilled that their ring exceeded expectations and wish the happy couple all the best.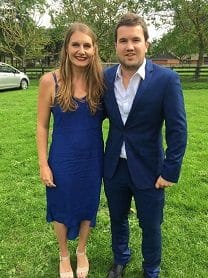 We love this amazing photo showcasing Tim and his partners sparkling engagement ring, taken amongst some great New Zealand scenery. Congratulations to yet another happy couple and the team here at Polished Diamonds wish you all the best for your future together.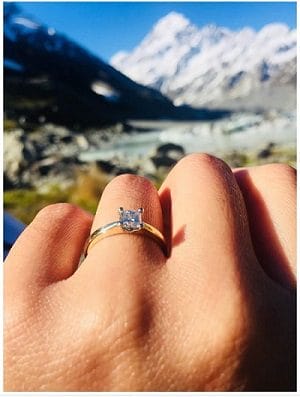 Congratulations to our newly engaged Bala and Jess, who shared this snap of Jess wearing her sparkling engagement ring. We are thrilled with the durable design of this ring and how striking it looks. All the best and we look forward to designing you a wedding band to suit.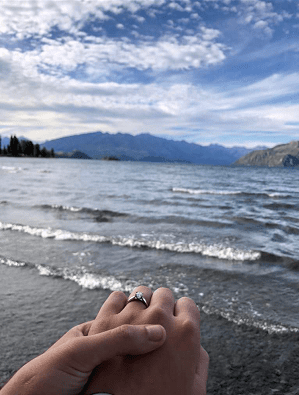 We love hearing what our customer's think of their finished products. Should you have any enquiries or questions, please don't hesitate to contact us – we would love to hear from you!
Stephen Solley
Thank you SO much Dan for producing the most amazing engagement ring I could ever have hoped for (and afforded)!! To be honest, I was very nervous purchasing an expensive ring online and without ever seeing it first, but that is what made it so much fun! I actually enjoyed the whole process! As soon as I spoke to you Dan, I knew I could trust you. You are so passionate about what you do, and it shows!The ring is amazing!! Flawless, and absolutely perfect!! My fiance gets compliments on her ring at least twice a week! I would highly recommend you to anyone.Thanks again Dan, we'll talk soon about wedding rings 🙂
Nimma
After getting frustrated looking for a ring in the usual retail outlets I came across the Polished Diamonds website. I'm very glad I did – their prices were much lower than the retailers, even for the custom designed ring I came to buy. More importantly though, both the diamond and setting I chose exceeded my expectations but more importantly, my fiance's. She loves the ring and the comments she gets from her friends.Don't let it be a question of business legitimacy – Polished Diamonds definitely do exist in more than just the web site and are very professional.Many thanks.
David & Karyn Morris
Karyn collected the ring on Friday and arrived home last night with it.I (we) are very happy with the ring.The service and advice from yourself was excellent and I thank you for that.As stated I did shop around before ordering the ring from Polished Diamonds.Choosing to deal with you and Polished Diamonds was a considered and certainly the correct decision.
Rachel
I received the ring this afternoon and I just want to say a big thank you – it looks fantastic! I absolutely love it and recommend anyone to Polished Diamonds – 1st class and very sparkly. Thanks again.
Elena Ferguson
Thanks for the perfect re-sizing of my ring! Came back beautiful clean and polished looks new again! As promised, here is my testimonial for the website, cannot stop raving about PD to everyone! FANTASTIC BRILLIANT QUALITY! Do not hesitate to purchase your life-time investment with Dan at Polished Diamonds. Being at the receiving end of a proposal and a gorgeous engagement ring, I can tell you that I was completely blown away with the clarity, cut & quality of the diamond. Beats any that I have seen at the retail shops in town and for an affordable price (so I'm told!). It was such a relief that my now-husband had chosen Dan to work with in designing and creating a one-off piece that suits me to a tee, with trusted quality workmanship. It is the envy of many family and friends. You'd think that would be enough to make a woman happy but Dan also provided GREAT after-care service. He was very reassuring with details regarding my ring and what needed to be done as I needed it to be re-sized. He did a perfect job, polished up everything to look new again! It has been a pleasure to deal with Polished Diamonds online and via phone from start to finish! I highly recommend Dan and will continue to spread the news about this great workshop!
Lori Trigwell, Jeweller, Auckland NZ
Our company, Silver Stone Jewellery, has now bought diamonds from Polished Diamonds on several occasions and have been delighted and thrilled with the fabulous service we have received and the diamonds have been absolutely stunning. The first occasion was when a dear client of ours wanted a very special ring for her 60th birthday 3 x 3/4 c diamonds she has 3 daughters and wanted one diamond to symbolize each daughter. Dan tracked down 3 stunning matching gorgeous diamonds very quickly enabling us to get back to our client with a great quote and win the job. She was delighted with the ring and receives compliments on a daily basis the sparkle is just unbelievable. As jewellers ourselves it is vital that we deal with someone whose knowledge and integrity are unquestionable and certainly Polished Diamonds fitted the bill and are so friendly and approachable and very easy to deal with. Another occasion was even more important my gorgeous niece got engaged!Her fiance gave her a $20 bling ring to do the 'on the knees job' as he knew that she would want us to do the ring for her so a couple of days after the engagement they came to us and told us what they wanted we immediately contacted Dan and Polished Diamonds who was on holiday at the time however, he still took the time to contact us and start the process.The end result is that he tracked down a diamond that will surpass my nieces expectations and got us a diamond with which we can create the ring of a lifetime for my niece. The confidence that the GIA diamond reports give cannot be underestimated. As well as sorting this diamond for us, Dan also sorted out some small diamonds to go in a ring that my jeweller husband is creating for me yippee! Thanks Dan, a pleasure to deal with you and we will be back in the very near future for more orders.
Sasha & Loman Edwards – Canada
Last November I purchased a wedding band from Polished Diamonds for my husband. As he is a native New Zealander, but we live in Canada, I wanted him to have a piece of his home with us. I wasn't sure how the process would be ordering from abroad, but to my amazement, everything was so smooth. The internet site was easy to follow, and easy to use. Dan was a gem to work with, took the time to answer all of my questions, helped me, explained how the process would work and responded to me when I needed him. I was also impressed at how fast the process was. It only took about a week from start to finish (it only took a few days for shipping!). When I received the ring, it was absolutely perfect, and my husband loved it! I was so happy with the smooth, easy, transaction I would definitely recommend and order from Polished Diamonds again.Thanks so much Dan!!
Gareth
I have received the ring today and I am very impressed with its quality. I am also impressed with the service you offered from the initial conversation you had with me on the phone through to the delivery. I was fully informed and reassured at every step.I was nervous about paying for such an important and expensive item without meeting you and without seeing it. Trusting you was the best thing I did. Had I known it was this easy, I would have taken the plunge earlier. Thanks again for a fist class service; Regards Gareth Bostock
David from Auckland
I popped the question over the weekend and am now happily engaged. My fiance loved and loves her new ring. It sparkles beautifully and fits her perfectly. Thank you Polished Diamonds for being extremely helpful and tolerant while I was looking for the perfect diamond within my tight budget, and thank you for producing the perfect ring for us. I would highly recommend Polished Diamonds to anyone and everyone who are planning to purchase an engagement ring.
Juliet
Dan at Polished Diamonds was absolutely true to his word and the marketing pitch! The CAD drawing process is extremely valuable for getting a precise idea as to what the ring will look like, down to every last detail. We were delighted and thrilled with the final product. Would thoroughly recommend this service which was prompt, efficient and attentive. Thanks so much once again – Juliet and Chris, Auckland
Stephen
As a medical doctor, I am used to noticing fine details, and when I started looking for rings at retail jewellery stores, I soon realised the diamonds didn't hold up to close scrutiny. It didn't take much to notice the flaws, and the prices were steep. On discovering Polished Diamonds, I found that far superior diamonds could be obtained for a similar price. I was initially a little nervous about doing business online, but with a little research I was convinced they sounded legitimate. On calling Dan it was immediately obvious that he was the real deal, as he talked far more openly and knowledgeably about what makes a good diamond than any of the sales people in the regular stores. I had a simple but stunning diamond ring designed, and my new fiance receives no end of comments about it. In fact she went to a retail store the other day, and said the man just about fainted with excitement on examining her engagement ring. This is a ring that is not cheap, but not wildly expensive either. The value from Polished Diamonds is amazing. I was absolutely thrilled with the service I received from Dan, and would never consider going anywhere else. He was easily accessible throughout all stages of the ring making process, had great ideas, and was very discreet. If you want a quality diamond, Polished Diamonds is the place for you. If you are happy with a regular diamond, and just want it a lot cheaper than retail, Polished Diamonds is also the place for you. I will be recommending them to everyone I know who is in the market for a ring, and am more than happy to answer any questions anyone might have as they are considering their options for a ring purchase. Thanks again! Steve
Paolo: D – Flawless Ex Cut
Even after reading testimonials of other Polished Diamond patrons I was still very anxious. When I took the plunge to get the diamond ring from this online company, my nerves figured that I had shot myself in the foot! However, there was nothing to fear because Dan and his team pulled through for me with perfect timing, but most of all, perfect workmanship. Almost 2 months of collaboration with Polished Diamonds to get the perfect diamond (D-Flawless, Excellent cut, Excellent polish, Excellent symmetry) and Platinum ring specifications and have all my questions answered was paid off in the development of a beautiful and stunning engagement ring. My fiance admires her engagement ring more & more each day. Dan and Polished Diamonds truly make custom rings that are very personal to the purchaser/owner; you can't get better than this level of service that definitely surpasses that of regular common-stock retailers. I told Dan that I didn't have the words to really show my gratitude, but the little that I mentioned here can be summed up in the way I feel which is that, 'I'M EXTREMELY HAPPY' A big THANK YOU again! I will be referring Polished Diamonds to all my friends and others I know.
Michael
Thank you very much for your great job – we were both very impressed and pleased with the finished product and have had so many compliments! I will absolutely recommend you in the future (I already have, actually) and will be in touch when we need our wedding rings done.
Tommy: D – Flawless Heart Diamond
I have researched on buying diamonds for a few good weeks. By far I found the Polished Diamonds website much better designed and user friendly, and has all info and knowledge to start with. Then the great services I received from the whole team was outstanding, absolutely VIP and very personal. I was very impressed by the enormous varieties of diamonds and ring designs I have been offered within an amazingly efficient action, which made the whole thing too easy. Finally, and most importantly the ring turned out to be exactly what I want, and after my very short notice, by very-short I meant 48hrs, it was the whole team made the pick-up at Duty-Free collection possible. Dan was actually in New York, USA while remotely organized the whole thing. Overall, the whole experience was like a dramatically directed Movie. Never thought I could say this, but my girl is reminding me everyday that she feels like the luckiest one in the world. My job's very well done by Polished Diamond. Thank you very much sincerely. (Heart Shape, D-Flawless, Platinum ring)