Here at Polished Diamonds, technology has allowed us to create your engagement ring to perfection using our Computer Aided Design software, also referred to as CAD. This process is in replacement of hand drafting and sketches, meaning the design process is precise down to 0.01mm or the thickness of human hair.
Having the ability to draft our rings with such accuracy means we can create you a perfect visual representation of your custom designed ring modelled to your finger size and diamond measurements. Never before have jewellers been able to create any ring design with such precision and accuracy the result is a flawless diamond engagement ring – wow.
CAD Trilogy Ring Design: Finished Trilogy Ring: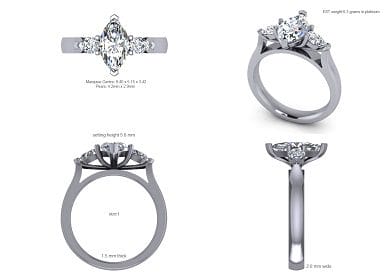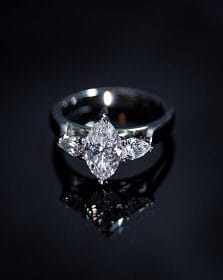 Following the digital design process, we 3D print the unique ring into a wax polymer model to take the digital design to physical form. This revolutionary process avoids any potential human errors and ensuring exact symmetry and replication. Once we have a perfect wax model we then cast this with any of our high quality metals, including platinum, rose gold, yellow gold and white gold. Once the metal has been cast we have the perfect replication of our digital CAD design in the precious metal. Our bench jewellers have over 50 years experience in hand polishing and hand setting the diamonds or gemstones. There is no substitute for traditional hand craftsmanship in the clean up, polishing and setting stages. This process means we have the tools to make any design, with such precision that Polished Diamonds has a strong focus on creating the most perfect ring possible for each of our valued customers. We boast to be able to produce the most accurate and perfect diamond engagement ring and using this process we deliver time after time. Each unique jewellery item is backed with a lifetime guarantee so the quality in the build is never compromised resulting in your complete satisfaction. The amazing point of CAD design is clients do not have to come into our design studio as the digital images can be emailed around the world for clients to confirm or make small adjustments. When setting GIA certified diamonds with laser inscriptions for security clients can trust the gemstone is correct.
Some CAD Design Examples: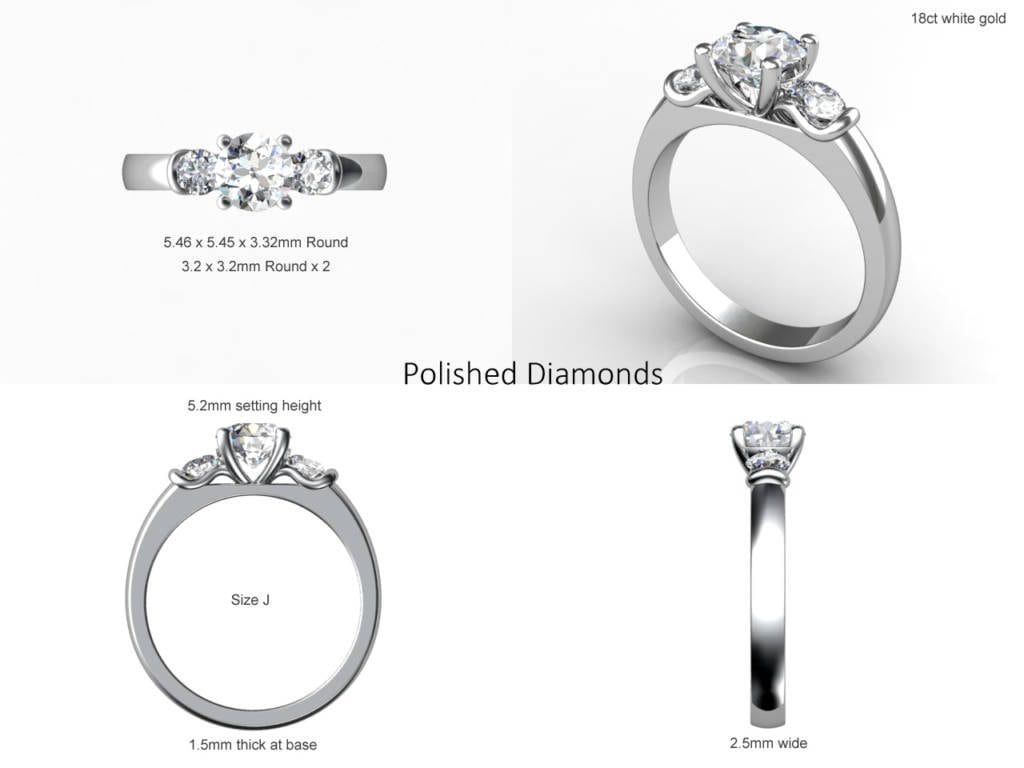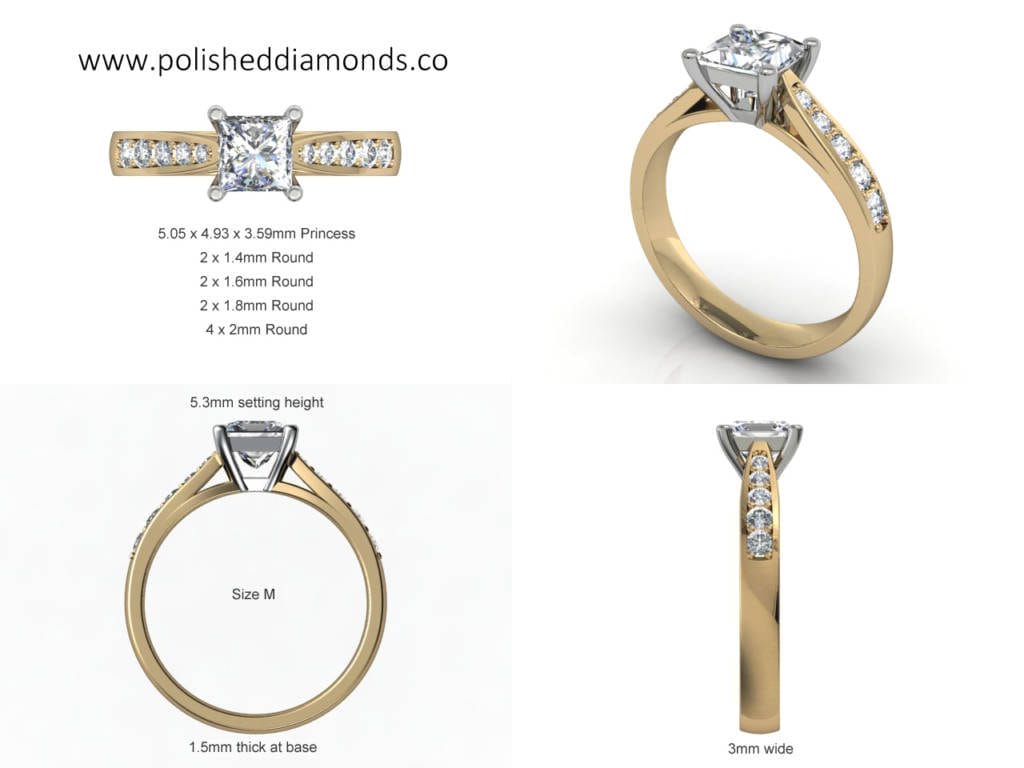 By producing specialised rings with this design and 3D printing process provides us with a point of difference from other jewellers who sell stock items, this also means we are so confident in the quality of our products we offer a lifetime guarantee, so you can feel just as confident. All of our diamonds come with GIA certification, to instil that confidence, so you know you are getting a product of superior quality. Although our process is in such detail, our talented designers work hard to have your unique ring created in just 10-15 days. We guarantee to create you whatever design you desire while working within your budget. Using the CAD design system you can find any inspiration from images online like Pinterest and Google images which we can then draw up in a proportional sketch in our architectural CAD software. For the perfect diamond engagement ring or precious jewellery item contact Polished Diamonds – we'd love to help.
Here are some more CAD Design Examples: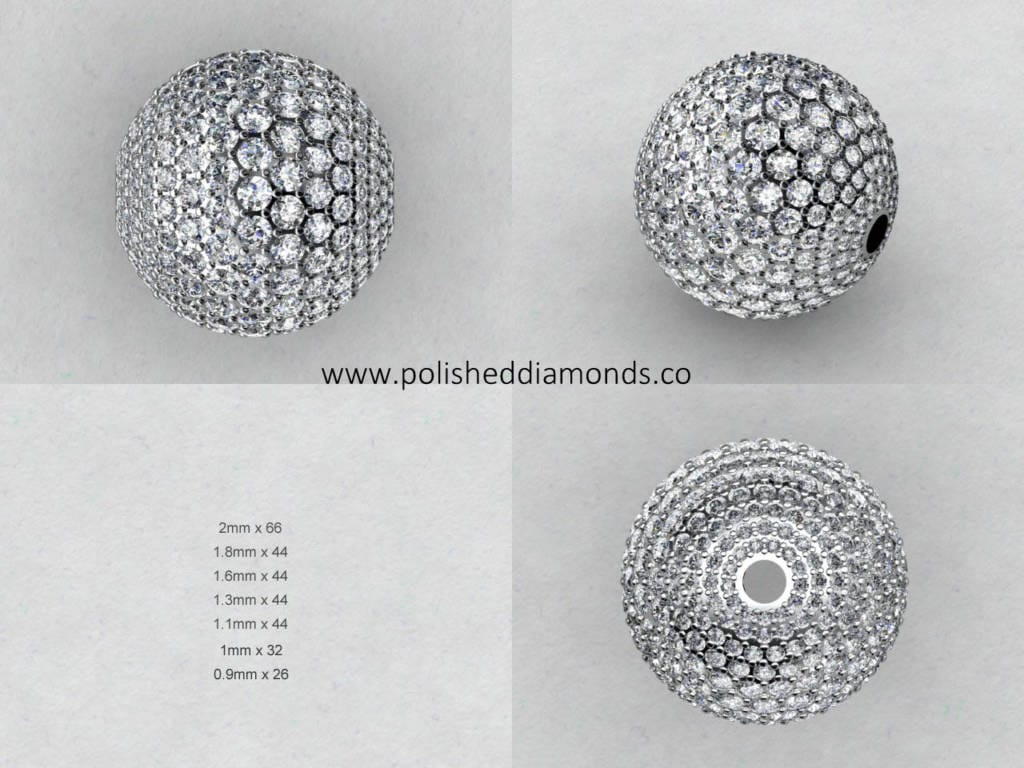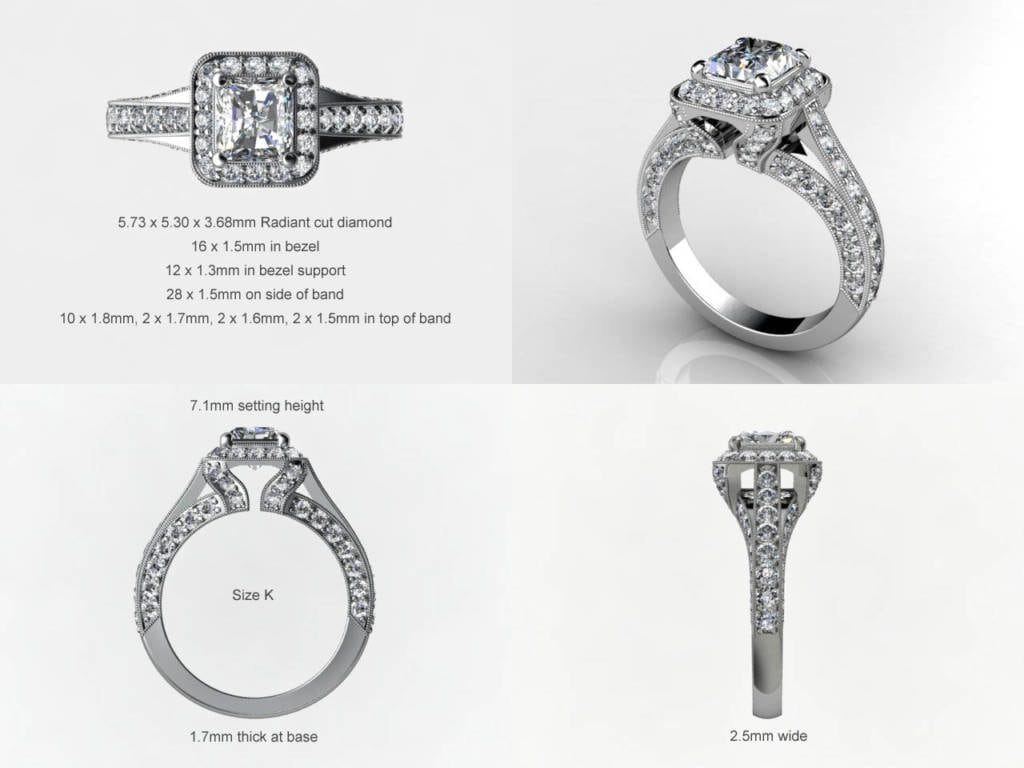 To view more of our previous CAD designs, click here.
We would love to help you create your perfect engagement ring, so do get in touch: either visit our design studio at 30 New Regent Street, CBD for a chat or send us and e-mail at info@polisheddiamonds.net