Polished Diamonds manufacture every custom made diamond ring to suit each unique client so any design is possible. We have access to the Worlds best diamond stock so any diamond can be used in your chosen design. So how does it all work?
The ring is then modelled using Computer Aided Design for clients confirmation before the ring is produced and the diamond hand set and the ring hand finished to perfection. This is a detailed summary of the methodology to help you understand how we can provide you with the best quality diamond ring for your budget.
1. Budget: Decide on an appropriate budget for the diamond ring. We can set any diamond to suit your budget. Some people work on 3 months wages while other have more and others less. Perhaps have a brief look at our diamond ring and diamond section to get a basic appreciation of price to help confirm your budget.
2. Ring Design: Decide on a diamond ring design that you like. We can make any diamond ring design there are no limits to our expert abilities. Think about diamond shapes and styles; review our online catalogue or email us a photo of your ideal diamond ring info@polisheddiamonds.net. Also consider the ring metal that is required to make the ring. We produce using Platinum, Palladium, 18kt-14kt- 9kt White, Yellow and Rose Gold. Obtain a finger size by checking with a local jeweller, sneaking an existing ring, asking her size or estimate and resize after you propose.
3. Select a Diamond: Once you have selected a ring design a diamond is required that suits your budget and expectations. We specialize in GIA certified diamonds from the Worlds best diamond stock; these diamonds have performance, sparkle and energy. View our Diamond Education blog to understand the characteristics of a diamond then review our online diamond list or enquire and we will conduct a personal search and investigation to find you the perfect diamond. One way to work within your budget is to take your total budget then deduct the ring cost and the balance can be applied to the diamond. Search our online database or contact us for personal service and customer help. We have access to the entire World stock of Polished Diamonds (excuse the pun) but it's our name, our brand and our product – we are best placed to serve and help you. Contact us for personal help in finding your ideal diamond.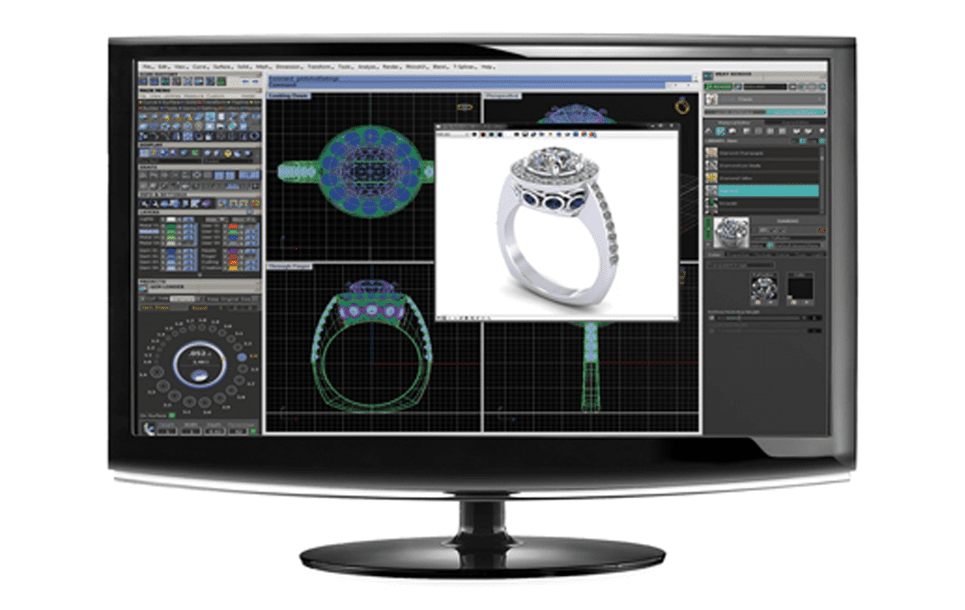 4. CAD Design: Now that you have the diamond ring design, the finger size and the actual diamond measurements we can produce a Computer Aided Design profile. This is a blue print using the actual measurements of the diamond ring. The CAD file is emailed to clients so they can see exactly how their diamond ring will look using their unique measurements. Small adjustments can be made at this point to the CAD design to enhance the design and ensure it is perfect. CAD is accurate to within 0.01mm and is far superior than a jewellers estimated sketch; we live in the 21st Century and technology is available for us to engineer a diamond ring to perfection; this is that technology. Once clients confirm the CAD is exactly the way they want the ring to look, we then email an Order Confirmation which details what they are buying. Payment is made at this point and production can begin. It is worth mentioning that using CAD we can perfectly match your rings for a perfect bridal set and include anniversary and eternity rings at a later date.
5. Production: Each diamond ring takes about 10 business days to complete from client payment to insured signature required courier. Our unique client management system sends automated updates as the ring is being constructed. The last confirmation is the dispatch which gives the tracking number of the courier so you can track the parcel to your door. The parcel includes the completed diamond ring identical to the CAD file, stunning presentation box, GIA diamond certification and receipt.
6. Satisfaction: Our unique systems ensure that every diamond ring is designed the way each clients requires it to look. The prudent diamond certification from GIA ensures the diamonds are correctly graded for maximum sparkle and impact. Our technology ensures each ring has excellent symmetry while traditional hand craftsmen set and finish each unique diamond ring to perfection – simple.
We'd like each person who buys a Diamond Ring to have the best they can get and Polished Diamonds can deliver that to every client. The quality, service, price and product is the best in the market and we'd like you as a client so go ahead and enquire ask us questions, feel comfortable we are here to help.